Our history started in 2006 with the acquisition of a family owned property called "Rocks Farm" near Bodiam in East Sussex, with the aim of establishing a convent within the Russian Orthodox Church in Britain. It was decided that the new community would be dedicated to the Holy Martyr Grand Duchess Elizabeth, one of the most venerated saints in Russia. It was very appropriate that St Elizabeth was chosen as the principle patron saint of the Sisterhood.
More on our history >>>
Our community is international, we have English, Scottish and Irish, Germans, Greeks, Slovaks, Ukrainians, Bulgarians, Romanians and, of course, Russians. We use two languages, Slavonic and English, almost equally in the singing, with the priest's prayers mostly in English. This is acceptable to everybody because all can then understand and participate.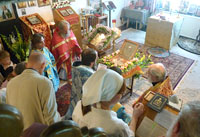 Priests
From the year 2006 until 2009 the community had no frequent services, but these years were very important for building up the community and Father Maxim Nikolsky helped a lot to establish the community liturgical life.
The situation changed in the years 2010-2012 when the services in the Sisterhood became more consistent. Father David Smith, who was serving the community from 2008, was appointed as a main priest for the Sisterhood in the beginning of 2010. He had a blessing to do church services for us on regular basis, major feasts and frequent Sunday services. One Sunday a month he served at St Luke's in Tunbridge Wells where many people from the Sisterhood usually were present.
In November 2012 Father David moved to live abroad with his family. After that the community was given three priests serving in a rota: Father Maxim Nikolsky, Father Joseph Skinner and Father Mikhail Dudko, who was appointed as a main priest for the community in the beginning of 2013. He helped us to reshape the chapel making it more spacious. He returned to Russia in the Autumn 2013 and since then we have not had frequent services. Father Maxim Nikolsky and later Father Stephen Platt were coming to Bodiam from faraway to serve Liturgy at least once a month, when continuing serving at Tunbridge Wells ones a month, as well. Thanks to father Stephen, who was appointed as our Community priest in 2013, our project of building a new church became a reality and we are planning to start services there in 2015. We are grateful to father Stephen for his efforts to maintain our community life well organized during the time of important changes.
Some festal Liturgies during this period were served by our good friend and helper Father Ierotheos Georghiou, the Greek priest from St Mary Magdalen church in Hastings.
Readers
John Harwood joined the community in 2008. He was in charge of the English part of the service acting as a Reader and supplying all necessary liturgical materials. To celebrate 50 years of his church experience he was solemnly made a Reader by Archbishop Elisey in the year 2012, on the patronal feast of the New Martyrs of Russia.
Ekaterina Lakhovskaya was in charge of Slavonic readings and assisting the Sisterhood as an accountant. From the year 2013 Marina Wise took her role as a Slavonic Reader.
The choir
The choir has been guided from the beginning by Nun Martha who was later joined by Alexandra Livtchak, a professional musician. Elizabeth and Silas Coker, Anya Livtchak, Ekaterina Petrakova proved to be dedicated members of the choir. For big feasts our choir was usually assisted by skilful visiting singers Elena Davydova, Victor and Tim Levin.
It was established in November 2012, on the Birthday of our Saint Grand Duchess Elizabeth. Since then Maria and John Harwood have been teaching a group of children and conducting Catechetical talks for adults. From 2013 Maria started using Skype for regular talks with the children providing them with immediate access to the Internet resources. The lessons have been conducted in Russian and English.
The Sisterhood's web site was initiated by Maria Harwood in 2010, not only for information purposes but also as a missionary tool for the community. The artistic design was made by Tim Levin, the structure and content was provided by Maria and John Harwood, who have been writing and supplying material for the site. George Krasovitsky is acting as web administrator.
We are a missionary community. Most of the people attending services have rather little experience of regular church life. Many have only recently become Orthodox Christians and some are still preparing to take this great step. We welcome, of course, members of other denominations who are interested in Orthodoxy and wish to attend our services. During all these years many people, young and old, were baptised or received from other denominations. Among them were active members of the community Elizabeth, Peter and Silas Coker.
Our priest and other members of the community are ready to help people who require information about Orthodox teaching and practice. During the Great Fast in 2011, a course of talks explaining the background of the Orthodox services was delivered by John Harwood, a specialist in Church History. The course took place in the Greek Orthodox church in St. Leonards and was very well attended.
We are planning similar activities in the future.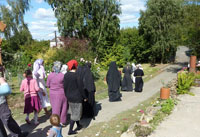 Our community welcomes pilgrims and helpers who can contribute to work on our farm, participate in preparing the services, help with the church decoration, cooking, cleaning and other duties. Young people are encouraged to work for the community in this way. They find the experience not only beneficial for their souls, but also quite enjoyable. Usually they are given various tasks in the garden, around the ponds and in the fields. The spiritual atmosphere of the community, the fresh air and the beauty of the surrounding nature are a blessing for every visitor.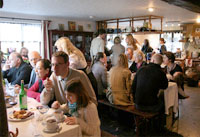 The tradition has been established in our community to invite everybody for "trapeza" - dinner, lunch or tea - after each service. The food prepared with love and prayer unites the community and creates a joyful and domestic atmosphere where everybody feels at home. During these meals people have the opportunity to share their spiritual experiences, discuss their problems and to put informally any questions to our priest. We are grateful to nun Martha
Our community undertook a number of pilgrimages to some of the holy places in South East England: to the Monastery of St John the Baptist in Essex, to the holy sites at Canterbury, Battle, Folkestone and Minster. In the years 20010 and 2011 we visited places connected to the life of our saint Grand Douches Elizabeth in the Holy Land and in Germany. We are planning more pilgrimages in the future to visit more places which are important for the memory of Saint Elizabeth in England and Russia.
Holy Relics of Saint Elizabeth and Saint Barbara
In the year 2009 the Holy relics of St Elizabeth and her companion the nun Barbara were solemnly brought to our community by Archbishop Elisey and we had big celebration dedicated to this event. The relics came from St Elizabeth convent in Germany, near Munich, which we visited during our pilgrimage to Germany in the year 2011. In the year 2012 small parts of the Holy relics of our patron saints were given to our community for permanent keeping. We regard them as a spiritual sign from our patron Saint Holy Martyr Grand Duchess Elizabeth who protects us and prays for our community in the Heavens.
We like to think that the name of the place chosen for the foundation of our community - Rocks farm - was deeply symbolic. We hope that the well-known words of Our Saviour: On this Rock I will build My Church." [St Matthew 16 v18] can be applied to our Orthodox community, too. We pray that it will grow and develop by prayers of Saint Elizabeth and all the New Martyrs of Russia as well as all the Saints who have shone forth in the British Isles.